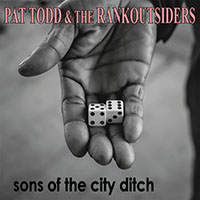 Sons Of The City Ditch – Pat Todd and The Rankoutsiders (Dog Meat)
Pat Todd and The Rankoutsiders albums are like hernia operations: You don't know you need one until somebody tells you, and then you can't do without it. "Sons Of The City Ditch" is the outfit's seventh long player and is no less desirable than the six that came before it.
You can jump anywhere into the Rankoutsiders discography and you'll come up smelling like roses, but if you're popping your cherry you might as well do it with this one. It's on resurgent Australian label, Dog Meat,who purveyed some prime rock and roll beef back in the '80s and '90s, and it's going to be considerably easier to find than the rest of the back catalogue.
Bonus points: Pat is about to embark on an extensive Australian solo tour so you can ask him to sign a copy.
Details

By

The Barman

The Barman

Hits: 1693