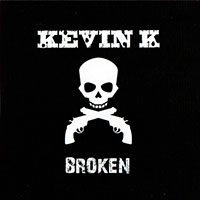 Broken – Kevin k (Vicious Kitten)
Recorded with all dials in the red in a basement in the cold of a Michigan winter, "Broken" shows Bowery veteran Kevin K is anything but. Your sound system may be, though, after 12 songs that don't skimp on distortion.
Glossy production and Kevin K have rarely been mentioned in the same breath. Ironically, his most polished record, "Magic Touch", also came out on Vicious Kitten 23 years ago. Apart from being on the same imprint, "Broken" bears no resemblance and sounds like Blue Cheer.
Kevin K played all the instruments on "Broken" (with some minor drum machine assistance) and the production is homespun. The "never too loud" ethos and claustrophobic feel might leave you gasping for breath midway through but I suspect that's the intention.
Details

By

The Barman

The Barman

Hits: 1297