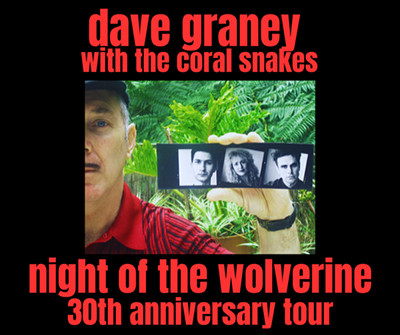 It's 30 years since the "Night of the Wolverine" album and to mark the occasion, Dave Graney is reforming The Coral Snakes and going on the road to promote a vinyl pressing.
Originally only available on CD, "Night of the Wolverine" was the breakthrough that took ex-Moodists leader Graney to overground success and his eventual crowning as Australia's Kling of Pop.
The 53-minute album will be pressed over four long player discs and isw available via Graney's Bandcamp.
Graney will be joined by original Coral Snakes Clare Moore on drums, Rod Hayward on guitar and Robin Casinader on keys and violin, and his frequent sideman Stu Thomas on bass.

"We will be playing two sets, the first being the 'Night Of The Wolverine' album and the second filled with songs that came before and after that breakthrough (for us) record," Dave says.
Details

By

The Barman

The Barman

Hits: 1112