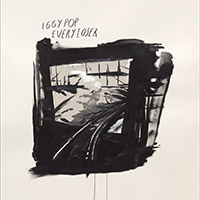 Every Loser – Iggy Pop (Atlantic/Gold Tooth)
"Thе problem with life is that it stops..."
Man, it used to piss me off when every fucking trendy '90s slacker rich kid got a "LOSER" T shirt in the Seattle era and that rich fucking showbiz kid, Beck, got to have a big hit calling himself a "LOSER". Ya know?
Cause I was a dropout and a dishwasher with a fat lip and broken glasses-they'd never, never hire me at the Goth boutique where the poser rich kids all worked. The abusive record store owner just gave me shit every day until I quit. All these doofy squares who never even really liked music, until the monopolies played "Teen Spirit" every five minutes for five years, so now they were suddenly all "Alternative", they also gave me shit everyday, because they felt entitled to, 'cause their rich Republikkkan parents owned everything in town.