Details

By

James Wallach

James Wallach

Hits: 3447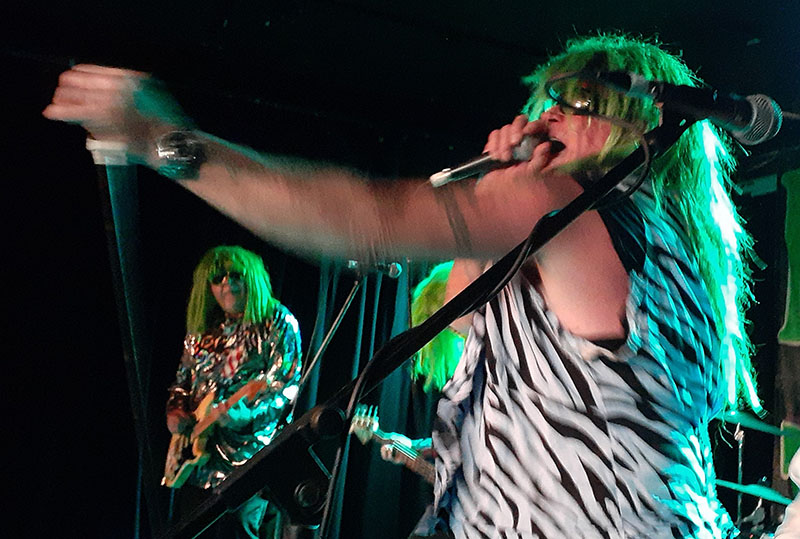 Jessie The Intruder makes a point, The Grand Wizard adds riffage.
The Psychotic Turnbuckles
White Knuckle Fever
The Stallers
Factory Theatre Fusebox, Marrickville, NSW
Saturday, April 17 2021
This was my the first concert since early 2020 that did not have some form of restrictions like seating (although numbers were capped) and what a great night it was. Held in the Fusebox at the Factory Theatre, a smaller and more intimate venue than the adjoining main performance space, this was the perfect venue to showcase three top rate bands.
Starting proceedings were The Stallers who were the perfect reason you cannot afford not to get early to a gig and not catch the support bands. "Tight", "loud", "devastating", "passionate" are four words to sum up the powerhouse of The Stallers.
Details

By

John "Bod" Ventoura

John "Bod" Ventoura

Hits: 3599
"In The Flesh" with
Joeys Coop
+ Paul Berwick
The MoshPit, St Peters, NSW
October 11, 2020
I attended a very special show from the delightful Joeys Coop. Must have been something in the stars or numbers - as on 10/10/20 we were part of something special. In these Covid days where we have been starved of live music, the hip MoshPit played host to 20 fans and close associates of the band AND it was live-streamed by Zenn Stream.
I felt hugely privileged being there and in the company of my music bestie after a wonderful Greek taverna feed nearby, and felt obligated to share my thoughts.
For those who need an intro, JC is a supergroup of sorts with the critically acclaimed Brett Myers (Died Pretty) on guitar, Mark Roxburgh (Decline of The Reptiles/ME262) on lead vocals, the engine room of Lloyd Gyi on percussion/vocals (Perry Keyes/ Sicarios et al) and Marc Lynch (Glide), they are a tight and sophisticated outfit who play smart Rock from the heart.
Details

By

Robert Brokenmouth

Robert Brokenmouth

Hits: 4176
The Rip-Offs.
"THUMP 2020"
Perdition + The Toss + Fear and Loathing
+ Chainsaw Preachers + Lumpsucker
+ The Rip Offs + Surfer Rosa
The Gov, Adelaide
Saturday, September 26, 2020
It's probably bad for me, but lately I've been thinking a bit.
Mostly about the continuous nature of rock'n'roll. Sure, the stupidvirus has thrown a spanner in the works, but spanners were surely forged with the express intent of being chucked into the smooth-running of rock'n'roll.
I put on Little Richard's very first album (on CD) as I drive toward Port Adelaide; I realise that his extraordinarily-controlled shrieks and vocalising are the origin of so much we hold dear, from the Beatles to the Stones to Smokin' Bones to whatever new shit you just heard.